BATMAN #23 CGC 7.5 WHITE PAGES GOLDEN AGE CLASSIC JOKER COVER ROBIN
« Back to Main Page
Auction End date
09 Sep 2013
Seller Location
Pittsburgh, Pennsylvania
Item Description
BATMAN #23 CGC 7.5 WHITE PAGES GOLDEN AGE JOKER COVER
Classic Joker Cover.
*GLARE FROM THE SCANNER MAY BE PRESENT IN THE PHOTOS*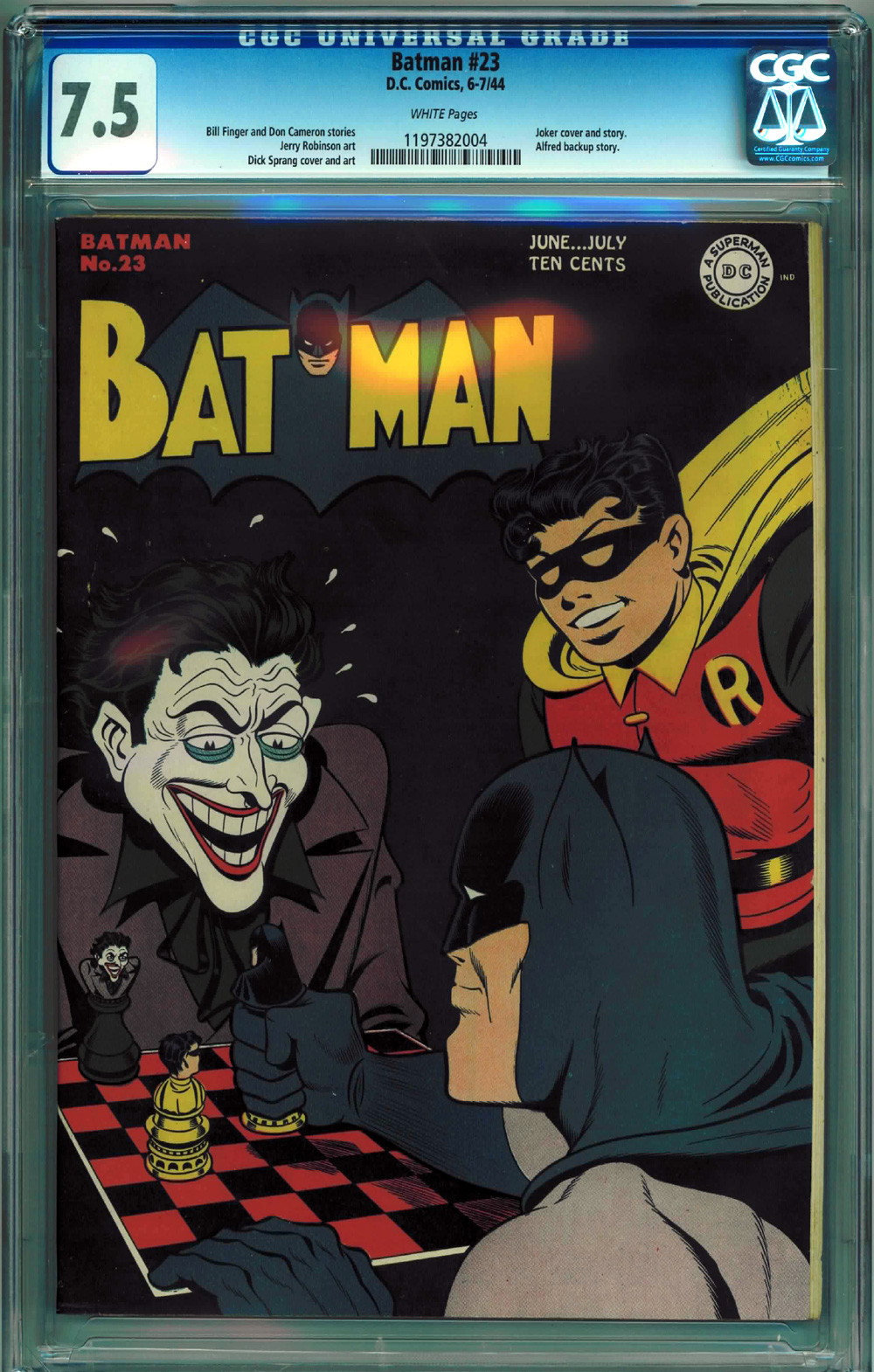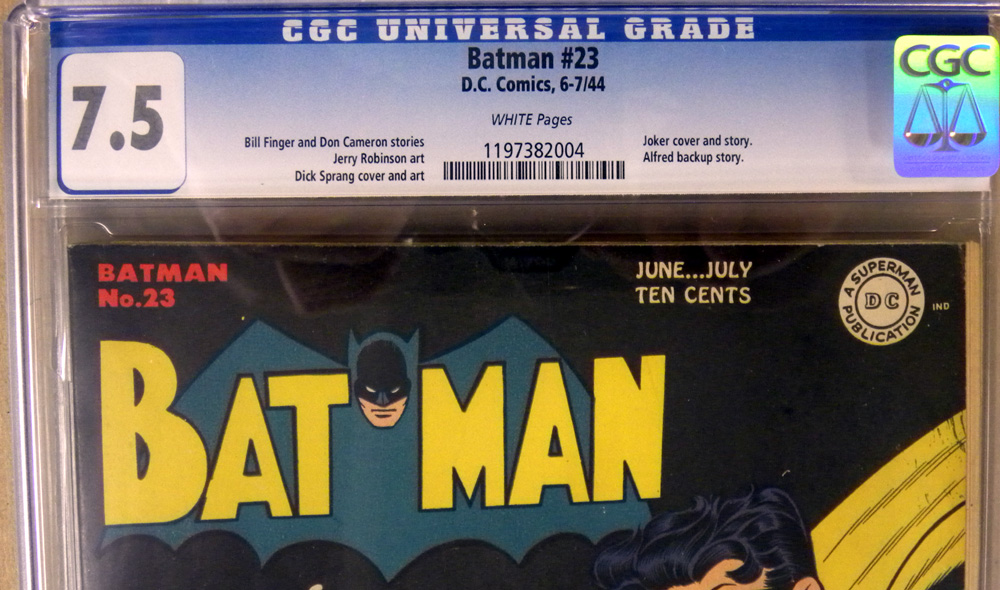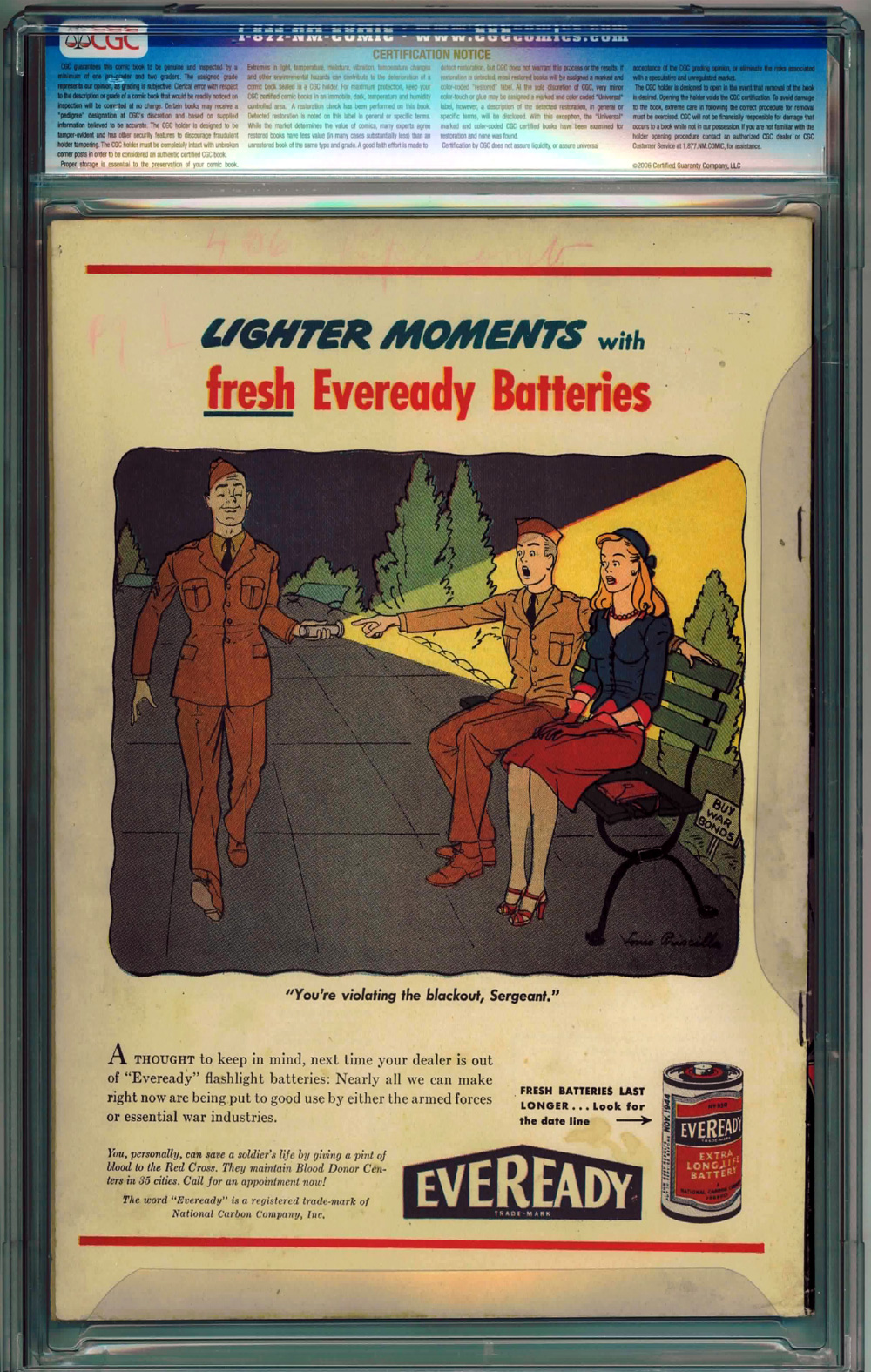 Please Read And Understand Our Terms Before You Bid/Buy. 1. We Only Ship Within The United States. 2. Shipping Is Free & Included In The Sale Price Of The Item. 3. We Ship All Items Through eBay & United States Postal Service. 4. Comics/Records/CDs/Books/Video/Media Are Shipped Via Media Mail. 5. All Others Items Are Shipped Via Parcel Post. 6. Special Shipping Requests Require Additional Payment & Are Not Included Under Free Shipping. 7. We Guarantee Fast Service And Expert Packaging. 8. Payment Must Be Received Within 4 Days From End Of Auction. 9. PayPal Is Accepted, But We Prefer Direct Payment To Us Via Visa, MasterCard Or Discover. Your Information Can Be Given Via E-Mail, Fax Or Phone. If You Have A Question About Approved eBay Payment Method Terms, Please Call Us. 10. Foreign Bidders Take Note, We No Longer Ship Internationally Through eBay. Please Do Not Buy Or Bid On Any Of Our Items On eBay. If You Wish, You Can Contact Us Directly For More Information. 11. If Any Items Are Damaged In Transit Or Missing From Your Order, Save All Boxes And Packing Material And Contact Us As Soon As Possible, Monday Through Friday From 10:00 am To 6:30 pm Est. At 412-261-0900 12. All Items Are Available For Viewing At Eide's Entertainment 1121 Penn Ave Pittsburgh, Pa 15222 Please Call (412) 261-0900 To Make A Viewing Appointment. 13. Purchases & Wins Are Available For Pickup At Our Store. Contact Us For Payment Methods On Pickup. 14. No Time Payments, No Escrow Payments, No Auctions Ended Early! 15. If You Have Any Questions, Please Contact Curtis, eBay Store Manager, Monday Through Friday 10:00 am To 6:30 pm Est. Although We Are Primarily A Brick And Mortar Store And Are Open 7 Days A Week, Our eBay Manager Does Not Work Weekends. Our Business Days For Shipping Our Monday - Friday, Items Paid For After 3 pm On A Friday Will Not Be Shipped Out Until Monday. Buy With Confidence, We Have Over 41 Years Experience In Selling Comics, Music, Video, And Collectibles To The World.



Eide's Entertainment!! (Est.1972)
Pittsburgh's Best Video Sales Store,
Pittsburgh's Favorite Independent Music Store,
And The World's Greatest Comic Shop.
Are You Tired Of Paying Sky High Prices For Overpriced Comic Books And Collectibles? How About Buying "Bargains" Only To Find Out The Seller Has No Concept Of Grading? Wouldn't You Prefer To Buy Accurately Graded, Fully Disclosed, Reasonably Priced Items Presented In Over Sized, Clear, Detailed, Unaltered Scans & Photos. I Am Curtis Haftman, eBay Store Manager For Eide's Entertainment "The World's Greatest Comic Shop". Eide's Has Been Buying & Selling Comics And Collectibles For Over 41 Years Through Our Brick & Mortar Store & For Over 13 On eBay. We, The Staff Of Eide's, Are Full Time Professional Dealers Widely Known For Our Expertise, Honesty, And Dependability. We Take Great Pride In Our Work And We Pledge The Following To Our Customers: 1. Consistent, Correct, & Satisfaction Guaranteed Grading. 2. Realistic Prices. 3. Fast Shipping. 4. Expert Packaging. 5. No Handling Or Packaging Fees. 6. Over Sized, Clear, Detailed, Unaltered Scans & Photos Showing You Exactly What You Are Getting. 7. No Auctions Ended Early. 8. No Shill Bidding. 9. All Restoration( Color Touch, Pieces Added, Tape, Trimming, Tear Seals, Glue, Marker ) Is Disclosed. Items Not Noted As Restored Are Guaranteed To Be Restoration Free. 10. Communication - We Are Available 7 Days A Week During Business Hours.