Item Description
STAR TREK #1
CGC 9.6
Signature Series
signed by actorWILLIAM SHATNER
First print, white pages, uncirculated file copy
signed by Captain Kirk himself, WILLIAM SHATNER
**(NOTE!)**Selling STAR TREK Alien Spotlight - Tribbiles #1 CGC s/s Shatner this week in a separate listing
HAVE BOOKS OF YOUR OWN YOU WANT TO GET CERTIFIED FOR CGC SIGNATURE SERIES? Drop me a line. I attend many shows throughout the year getting books certified for fans from several artists and writers.
Feel free to email for inquires.
Other forms of payment other then Paypal accepted, please inquire
Feel free to email requesting full CGC signature series 1000+ inventory list
Click here to view my PHOTOBUCKET images of Signature Series CGC books.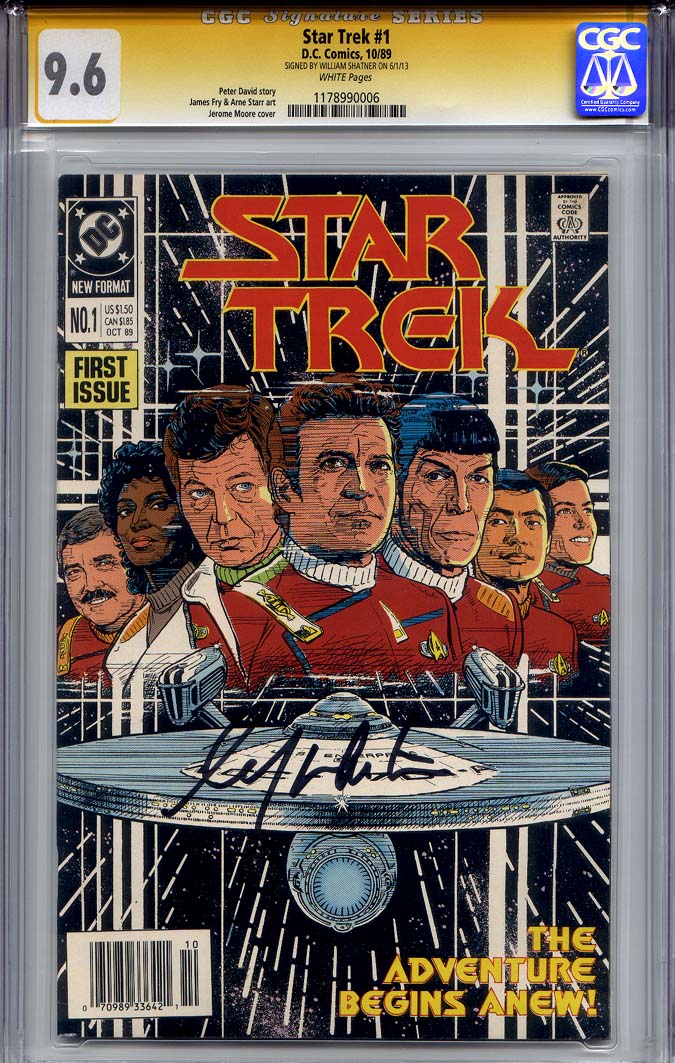 Over the next several weeks, I will be listing many CGC 9.8 bronze and modern books, some pedigrees and some of the single highest graded on census.
Selling many hard to find and unique signature series books all week, from Silver Age to modern, including Stan Lee, Brubaker, Frank Thorne, Frank Brunner, Joe Simon, Michael Zeck---feel free to inquire for an inventory list of 1000+ signature series books, most 9.8
Feel free to e-mail to inquire about upcoming sales.
Email for inquiry!
HERE'S JUST A HINT OF WHAT ELSE I AM SELLING THIS WEEK...FEEL FREE TO INQUIRE...email me
S/H: $12.95 mailed with the US, 1st Class -
All others inquire
S/H: CANADA- $37 to $48 U.S.D., S/H to UK - $45 to $54 U.S.D. PAYMENT MUST BE MADE WITHIN 7 DAYS.