Item Description
Star Wars #1 35 Cent Varient CGC 9.0





a.imagelink {color:#454545;} a:hover.imagelink {color:#454545;} a:visited.imagelink {color:#2B2B2B;} a.imagelink img.auctionimage { border: 2px solid #454545; } a:visited.imagelink img.auctionimage { border: 2px solid #2B2B2B; }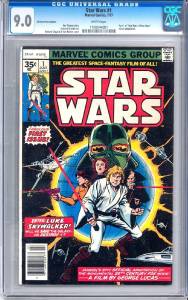 STAR WARS 1 This is a
stunning
example of the 35 cent variant CGC 9.0 only 19 copies in the world are higher than this..!!!
A bit of History
The 1977 Star Wars first printing comic is a must-have for collectors. As with most #1 issues Star Wars #1 has the bulk of the value in this series. Released before the movie came out the book didn't reveal the whole story it merely served as an introduction. It is the comic that has always appealed to Star Wars collectors and comic collectors alike. Star Wars 1's classic cover by Howard Chaykin and Tom Palmer is striking in this grade and are very hard to come by as having been released in 1977 it is now almost forty years old. Demand has always been high for this book from collectors and the announcement of a new movie has only increased interest.
The 35% Cent Variant
The Star Wars #1 35 cent variant has been one of the most valuable and sought after comic books of the Bronze Age for several years. The 35 cent variant of Star Wars #1 had very limited distribution, and although the exact numbers aren't known, the Overstreet estimate is about 1500 copies. The most important piece of information you must know about the Star Wars 35 cent variant is
the true variant has a bar code in the UPC square.
There are copies that were distributed in 3 packs with the 35 cent price tag but the square where the UPC code should be is blank. Why is there a variant? Marvel typically tested price increases on a limited basis before rolling out the increase over all their comic titles. From mid 1976 to early 1977, single issues of Marvel comics were priced at 30 cents each, but the company wanted to gauge the resistance to a proposed price increase, and thus began pricing their comics at 35 cents instead of 30 cents, but only in very limited markets. The first four issues of Star Wars comics fell within this five month test market window.
The "35 cent" test marketed books saw limited distribution in only four U.S. cities:
[Distribution markings on the top edge of each book indicate its origin city]
Memphis, TN
Toledo, OH
Tuscaloosa, AL
Wilmington, NC
Supposedly, all of the 35 cent variants were only sold in these four cities (there's a rumor of possibly a fifth city, but it's still a matter of speculation).
Every Marvel book published in the months of June through October, 1977, had a 35 cent version distributed to one of the above four cities, while the 30 cent books were distributed everywhere else. The test marketing was successful; beginning in November 1977, all Marvel books were sold with the "new" 35 cent cover price (coinciding with Star Wars #5).
This Comic:

To say that 35 cent price variants are elusive is an understatement. To top that there are only 19 comics graded higher than this in the world -
just 19 !!
As of March 2015 CGC has only graded 165 of the 35 cent price variant in all grades. There are only 19 books graded higher than this copy – that's 19 in the entire world. You can't go wrong with this incredible investment grade example. Sources:
http://forum.rebelscum.com/t969041/
http://www.comicbooksecrets.com/theblog/uncategorized/star-wars-1-35-cent-edition-investment-review/
It is the ultimate bronze-age comic and is as nice a copy as you will ever come across. Trades are welcome - tell me what you got - sensible offers only please!!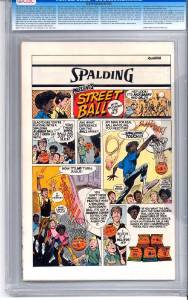 Payment within 3 days or the item will be relisted
.

I will ship Worldwide!! Foreign customs has been taking unusually long so please have patience but all books and comics are shipped priority mail domestically and Express internationally but of course I understand if you would like to stick with priority. KNOW YOUR COUNTRYS IMPORT LAWS AND TAXES! If paying by paypal, we reserve the right to only ship orders over £25 to confirmed paypal addresses. If you do not have a confirmed paypal address please contact us before bidding/buying. Also if you have zero or feedback below 10, or below 80%, please contact us before bidding/buying. Orders over £25 will be sent using a tracked service for buyer/seller protection.

Payments
by PAYPAL within
72 hrs
. All books and comics are to be shipped Priority.
Please note
- All items are described to the best of our ability. photographs and images form an integral part of the description and you should satisfy yourself as to the overall condition before you bid.
Returns
- We accept returns, within 14 days, only where the item is found not to be in the condition stated. The item must be returned in the condition it was sent and the buyer is responsible for tracked return costs at their own expense. A refund for the item value will then be provided upon receipt of items if in the same condition as sent. If the item is lost or damaged in the mail we require you to co-operate with the mail claim process in order to provide a refund.

I have been collecting and selling rare books and comics for nearly 20 years. I strive to be honest and forthright in all my descripstions and transactions.

Please go through the ebay system to contact me and I will usually get back to you within 24 hours.