Bid with confidence. I am proud to say that I have been an Advisor to the Overstreet Comic Book Price & Grading Guides since 2006. Please note that I am an attorney by day and have a very busy legal practice. I always do my best to timely respond to any inquiries as well as to ship purchases. Sometimes, however, there is a slight delay. I will always be communicative with you and you can rest assured the transaction will be completed to your satisfaction. To find out more about EsquireComics check out my

page!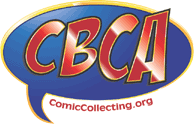 I was also a founder of The Comic Book Collecting Association (CBCA), which is a non-profit international organization made up of comic book enthusiasts who share an appreciation for the history, artistic merit, and significance of the comic book medium as an important element of popular culture. The mission of the CBCA is to promote the comic book art form and hobby of comic book collecting for people of all ages by encouraging fellowship among comic book enthusiasts, providing information and education to the public, and helping to facilitate the buying, selling, and trading of comic books and related material in an environment of trustworthiness and integrity.
I am also outside legal counsel to CGC.

We welcome collectors and dealers who wish to pursue a common goal: promote fellowship, education and ethics within the comic book collecting community.
If you have less than 5 positive feedbacks, you must contact me first to have a purchase honored. Sorry to new ebay users, but too many shills bid on auctions.